I know I over did it slightly last week, but I had ordered a few things via the internet that weren't available where I live (the Isle of Man) and they all arrived in the post this morning.
My Glossybox came too. It is a bit late as my daughter's came last week, but I have a feeling it had slipped down the back of somewhere in the sorting office as the outer box was a total mess. Fortunately, the inner box was absolutely pristine.
Sleek also had a sale on which was quite dangerous! I did get a few bits for my daughter too so this is just my portion of the box, I didn't think it fair to put hers in too.

I am going to keep this blog entry short as I have got so much stuff that I would like to do blog entries on and ask for people's opinions that this is just going to be a quick "show and tell".
First up - what arrived today!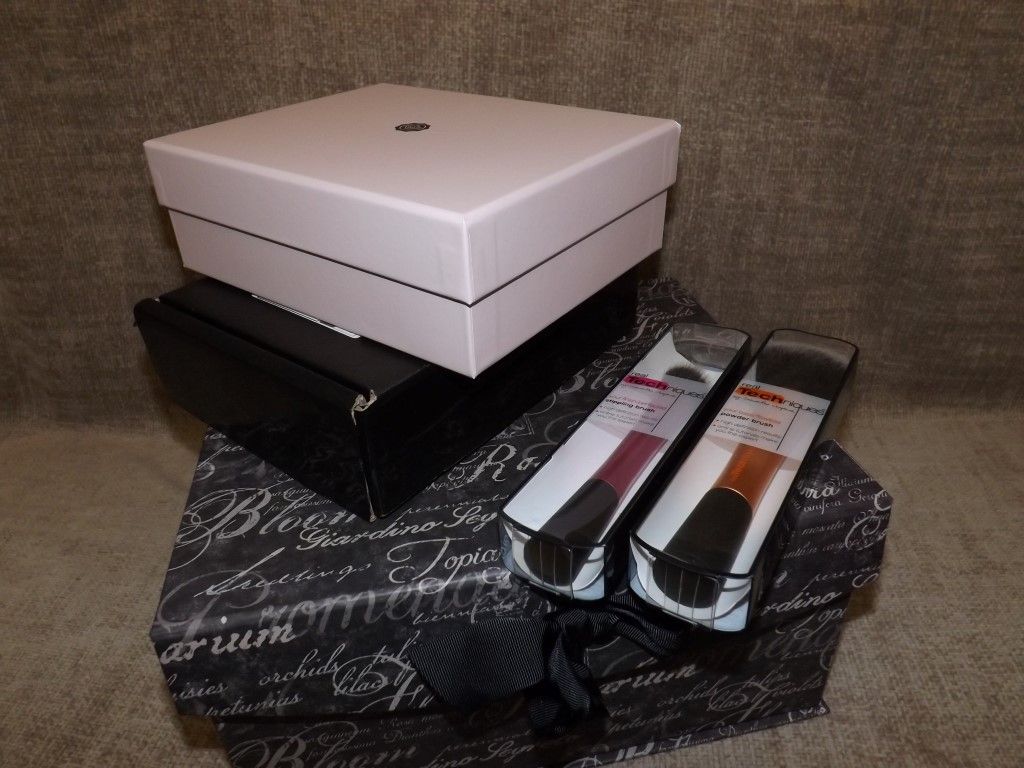 Everything but the box that it is all resting on (that was bought last week by my ever suffering better half to keep my newly acquired things in).
On to the good stuff. The Real Techniques brushes that were out of stock in the ONLY Superdrug we have over here..
On the top (as if anyone needed telling!) the powder brush and below the stippling brush. I have to be honest, I don't have the money for Sigma or Mac brushes and have watched so many YouTube reviews and tutorials that I actually consider these an investment for me. I already got the starter kit and the core collection kit so apart from a couple more, I think I have enough to be going along with for now. I would love a few more but the Avon brushes that I have had forever do still do the job as I like to think that I take care of them. At least I know what I will be asking for come my birthday and Christmas.
I would love Wayne Goss' new collection but I think they are a tad out of my price range, and in all fairness, my ability too. That isn't to say I won't be salivating over them when they come out next month!
You can register interest in Wayne Goss' new brushes on the same website here (I believe they will be exclusive to this site for now) and they are out next month. I haven't seen a price point on them yet, but given that they are cruelty free animal hair and hand made in Japan, we can safely say they will be out of my price range! I just like looking at them though!
Next up, my belated (through no fault of their own) August Glossybox. I am going to gloss over this one (pun completely intended) as it has been shown a million times already.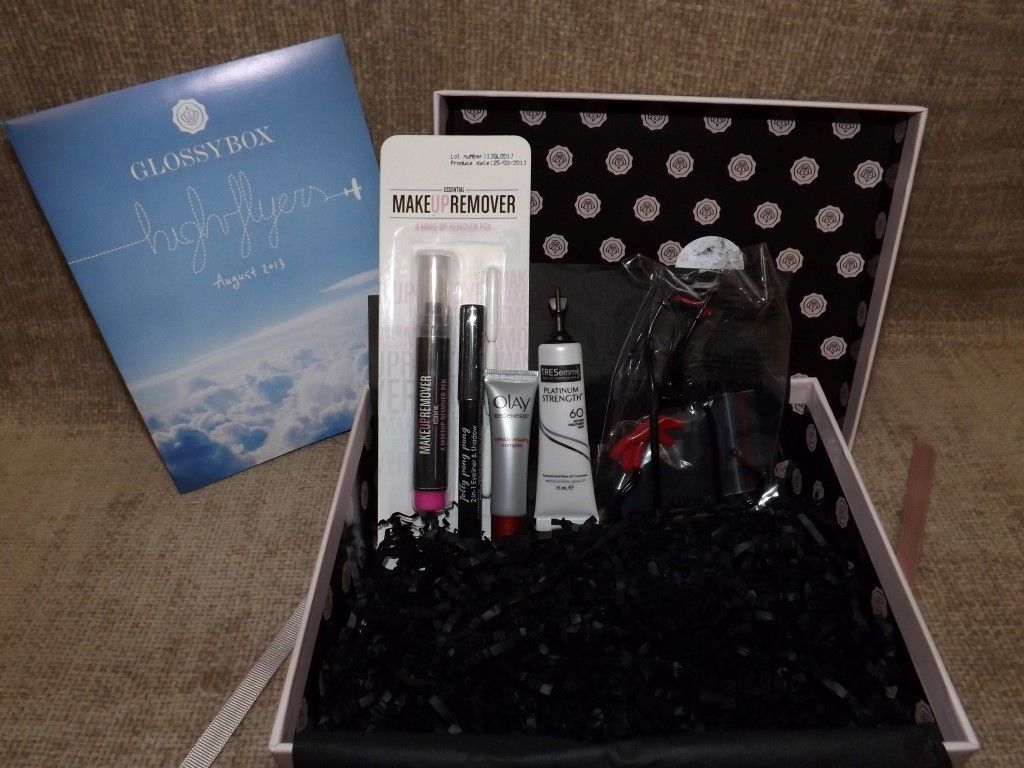 This month's them is High Flyers. So, from left to right, my Oceane makeup remover pen (not available in the UK currently), Jelly Pong Pong's 2 in 1 Eyeliner and Shadow (available from their website), Olay's Regenerist wrinkle relaxing complex (available in most high street/drugstore places), TRESemme's Platinum Strength 60 Second Treatment Shot (Superdrug, Boots, Tesco and Waitrose currently) and finally Emite Make Up's eyelash curlers (from Sweden) with 3 extra rubber pads. These retail at approximately £20 in their online shop.
All in all, I was rather pleased with this month's box, it seems a great balance of new things to try out and great items to add to my growing arsenal of tools.
Lastly, and I am not going to fib, my favourite box that arrived today. My mini Sleek haul. They had/have a sale on that started last Friday so I took full advantage and treated myself to a few things that I had been looking at for a while. It would have been rude not to!
As I didn't want to do too many pics as I want to go through these more in depth (they aren't going to be reviews - I am in no position to do them), but I want to do blog entries as to how I feel about them, and what I am going to get from my recent purchases.
Let's start at the top left, the i-Divine ultra mattes (v2) Darks palette (here). I have got theBalm's Nude'tude and wanted something a with a few more matte shades and this fit the bill perfectly. Next up, keeping on the top row, the face contour kit in light (here). I think it will be a great thing for me to actually get my head round contouring properly and am really looking forwards to using it.
Moving to the lip products in the lower left hand side of the picture. Pout Paint in Minx (here). I was introduced to Sleek's Pout Paints in July's Glossybox and am thrilled with the two I got, so thought another in more of a "me" colour wouldn't go amiss at all.
Beneath that is Gloss Me in Fools Gold (here). Gorgeous colour, typical doe foot applicator. Really can't wait to swatch and road test this one.
The two pencils beneath are lip pencils - top one is 188 Bare Essential and the bottom one is 645 Ruby. I know they are of differing lengths but I am not complaining as they are sale items and were sealed.
Last two items. A blush and a lipstick. The blush was something I have been trying to get from my local Superdrug for a while but it is always sold out and just the sad and lonely tester is there. It is their (starting to become hard to come by) blush in Rose Gold (here). I have very grey and sallow skin due to my combination drug therapy and it really is just the perfect colour to perk my cheeks up.

Last, and by no means least, their true colour lipstick in 755 Liqueur. Gorgeous colour that I can't wait to swatch, but as with all the other things, I have restrained myself!
I think I have got plenty to be going on by now, and am looking forwards to getting swatching away, and getting some better light to swatch in!
Like I said, I am in no position to review, but I will be posting my thoughts of my new purchases (which I actually read up on before I bought them), and hopefully getting some help and feedback off everyone that cares to swing by my little blog.
Many thanks for stopping by