Well, here it is. August 2013's Beauteco Box. I have to admit, I ordered this one with indecent haste the minute the boutique opened and have had it a few days but wanted to give a the products a few days to try them out.

I picked Box 2 from the menu (for those not familiar with Beauteco Box, they have a choice of 3 boxes and you pick which one you would like ahead of purchasing it).

Absolutely thrilled doesn't cover how I felt about this month's box, even though I won't be using everything. I shall explain further on about that bit. Anyway, customary photo of the box....
So from the menu, we have Arran Aromatics Lavender and Tea Tree Facial Wash (full size).
Lord and Berry Intensity lipstick in Peach Gleam (full size).
Lord and Berry Kissproof Lip Colour in Blossom (full size).
S5 Calm Serum (sample size in 10ml/0.3fl.oz).
Melvita Atomiser Orange Blossom Water (sample size 28ml/0.95fl.oz).
For me, all in all an absolutely fantastic box.
First up, the Arran Aromatics Facial wash. This claims to be have naturally exfoliating loofah, be a non drying formulation and have the" deep cleansing action of tea tree and lavender to promote a revived complexion". I was a little wary of giving this a try as my skin is, in a word, pants. I have mentioned before that I am on combination drug therapy for my back and epilepsy and both absolutely wreak havoc with my skin. One day it is dry, another it is oily. You name it, my skin will experience it. Anyway, I subscribed to 3 boxes for a few months so I could find some new things to shake up my skincare and beauty routine so I gave this a go.
It wasn't nearly half as harsh as I was expecting. In all honesty, I wouldn't have picked it up to purchase but having used it 5 times now, I am very pleasantly surprised. I find using a 10 pence piece size amount is plenty and the loofah doesn't have the texture of scrubs such as the St Ives scrubs (which I was a slave to when I was younger). I have been more than pleasantly surprised and although not sure if I will purchase it when I finish it - I am more than happy to use it in the meantime.
Secondly, the Lord and Berry Intensity Lipstick in Peach Gleam. I am going to lump this together with the Lord and Berry Kissproof Lip Colour in Blossom as they aren't colours that I would wear but my daughter is absolutely raving about them. I did a quick swatch of them and this is what they look like (flash off)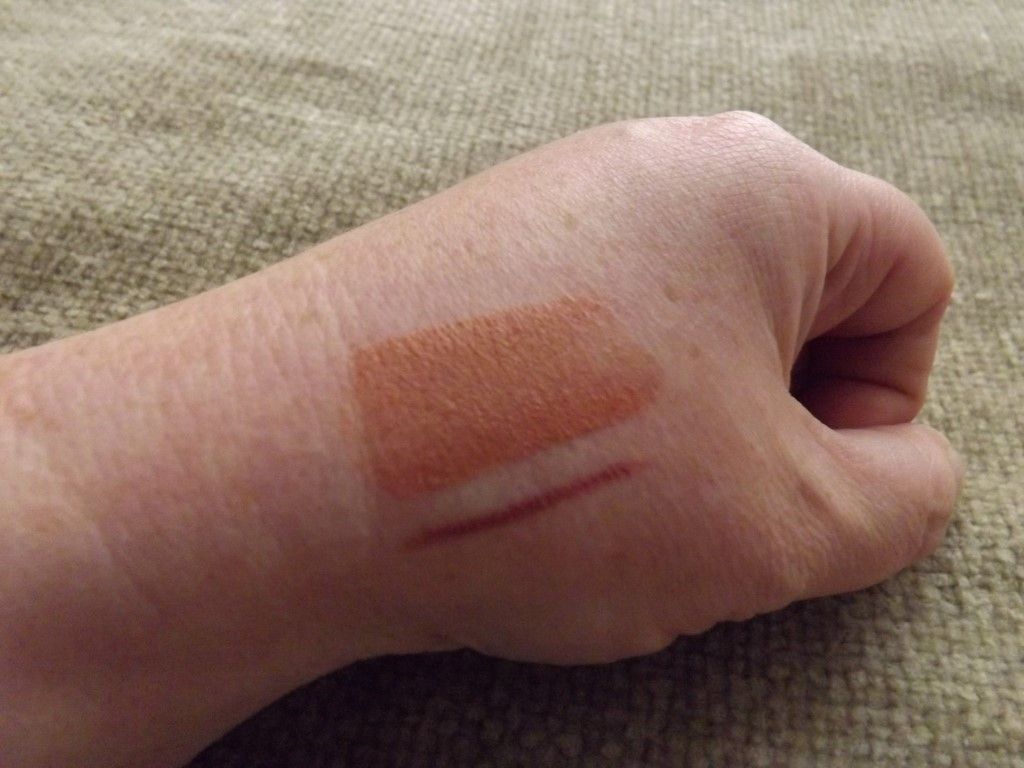 I am not a huge fan of any kind of lip products unless they are either a lip balm or a lip stain/tar. I am definitely more of an eyes and face person. Saying that, I wasn't in the least bit disappointed to receive these as like I mentioned, my daughter was thrilled to get them. They suit her complexion perfectly. As this is second hand information, I can only tell you what she did (bearing in mind she is 17) but the lipstick apparently goes on brilliantly but isn't the greatest lasting. It looks fairly highly pigmented, but wears off even with good lip prep really quickly.

The lip liner is another matter altogether. It has a very creamy consistency so she used it all over her lips with a slick of NYX's Mood Lip Gloss in Sensual (found here) and it looked amazing. She wore it for a double shift at work and it didn't budge. I think this will be one that will be repurchased, and in different colours too by her. She is a happy bunny for sure!
Now we are on to my personal favourite from the box, the S5 Calm Serum. Given that I have skin problems that I have already mentioned, I was really looking forwards to this one and it did not disappoint in the least. I have used it for 3 nights on the run now and can feel a difference in the texture of my skin. The redness has calmed a little and the usual "itch" I get on my face after I have taken my medication is easily soothed by this. The sample size is a generous 10ml and a little goes a long way so I have got a good couple of weeks of this left. Given that this sample is £9 alone and a full size bottle is £44 I am so glad that I received it in this month's box as I know that a little goes a long way and even though the full size is £44, I feel it will be money well spent. For me? A purchase I will be making once the sample runs out.
Lastly on to my least favourite item in this month's box, the Melvita Atomiser Orange Blossom Water sample. I genuinely hadn't heard of Melvita before and I don't think it will be on my radar after this either. I have POF so am getting hot flashes all the time and get absolutely no relief from it (unlike the Anatomical's Spray Misty for Me from last month's Glossybox which is fantastic). The smell alone is just odd. It has something in it that I just can't even try to describe, which only gets stronger after you have put it on. I really don't like it so out of all 5 items, this is going to be the one that I think will find its way to my Mum who I know will love it.
I can't give this months Beauteco Box anything other than a 4/5. It was absolutely superb and I definitely couldn't ask for more for £10.

Fi xoxox