So here it is, the last day of September 2013. It has been a weird month for me - I have been wanting to get into the Autumn spirit but is has just been too warm for any of that! Saying that, the weather seems to have dried up, so it has been time to shake my face and body moisturising up, as well as a bit of my makeup.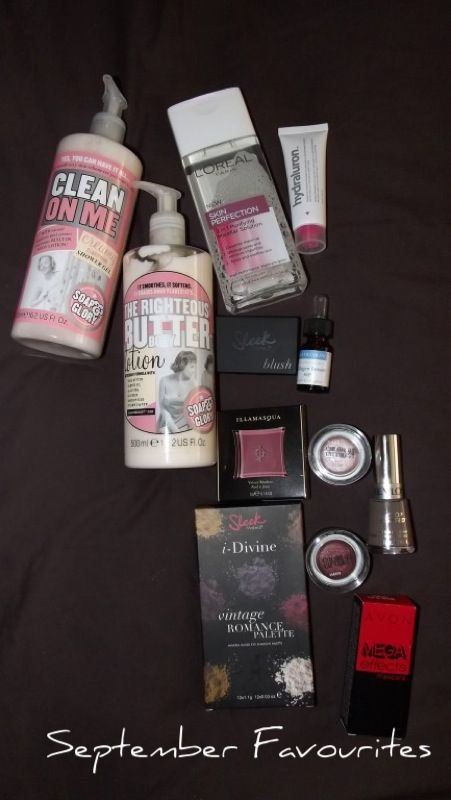 Some are re purchases, some are new things to try and there is one HG item in there for me too. Without further ado, here we go:-
Soap and Glory's Clean on Me and The Righteous Body Butter Lotion (repurchase)
L'Oreal Skin Perfection 3 in 1 Purifying Micellar Solution (repurchase)
hydraluron (new product, could be HG status, not sure yet)
Sleek MakeUP Blusher in Antique Rose (new purchase, love it)
Matriskin Collagen Serum MP (absolute HG under eye serum, thank you LoveMeBeauty)
Illamasqua Blusher in Peaked (new purchase, amazing colour and finish)
Sleek MakeUP's Vintage Romance i-Divine Palette (new purchase - in love with it!)
Maybelline's Color Tattoo in Eternal Pink (new purchase, perfect base for nudes)
Maybelline's Color Tattoo in Metallic Pomegranate (new purchase and the purple smoky eye will be mine!)
Revlon Top Speed Nail Enamel in Stormy (new purchase of the perfect greige)
Avon's Mega Effects Mascara in Black (new purchase to see what the fuss is about. Glad I did as it works great for my short stubby lashes and keeps the curl in them too). Only problem is that it is an incredibly wet formula.
I could have gone on and on, but narrowing it down to this was hard enough. These are genuinely the things that I have bought new, repurchased and loved using this month. Fingers crossed that a lot of it will take me through to next month too.

So what have been your favourites this month? I would love to know so please leave me a comment, or if you haven't got on with any of my choices and have alternatives I would love to hear about them too.

Fi xoxox