On September the 4th last month I had some pretty rubbish news. Not the kind that rips families apart, but the kind that is a complete annoyance. I was diagnosed with bi-lateral cataracts (my blog entry about it is here).

It is quite hard to describe what I see but everything has a bit of a grey fog, especially around the outsides of lights. Apparently there are two types of cataract, ones when you see better in daylight and the other when you see better in the dark. Fortunately I fall into the latter - well it is coming into Autumn and every cloud has to have a silver lining and all that!
I mentioned that I was going to get a pair of glasses made up from Glasses Direct (their website is here), a cheaper pair and my NHS ones too for backups. There are an awful lot of things coming up very soon that require money - I have a birthday with a 0 on the end of it on Tuesday, the following Sunday it is one of my sons' 18th birthday, we have a bit of a break then on the 26 of this month is it my husband's birthday and on the 27th it is our first wedding anniversary. Please blame him for the timing of the last two as I let him choose what day we got married!

So, my new glasses came from Glasses Direct. They were, in a word, amazing. They called to check I had my prescription correct as it is quite a strong one, and were more than happy to answer any emails or phone calls I had.

I ordered my first pair from them on the 5th of September and even with quite a complex prescription they were with me on Friday the 13th of September. It took my local Optician (who, I hasten to add, is absolutely fantastic) until the 27th of September to get my NHS ones to me.
By far, the glasses I got from Glasses Direct are the more comfortable, functional and better in every way. I won't harp on (again) but they have trained Opticians to answer your calls and emails and nothing is too much for them. They knew I was recently diagnosed with cataracts and talked me through everything that my own Optician didn't have time do (not due to the fact he didn't want to, it was more of a time constraint)
Browsing my emails on the 29th of September I saw that they had a HUGE Autumn sale on. 40% (yep, that is absolutely correct) off all glasses over £55. I couldn't pass up on the offer!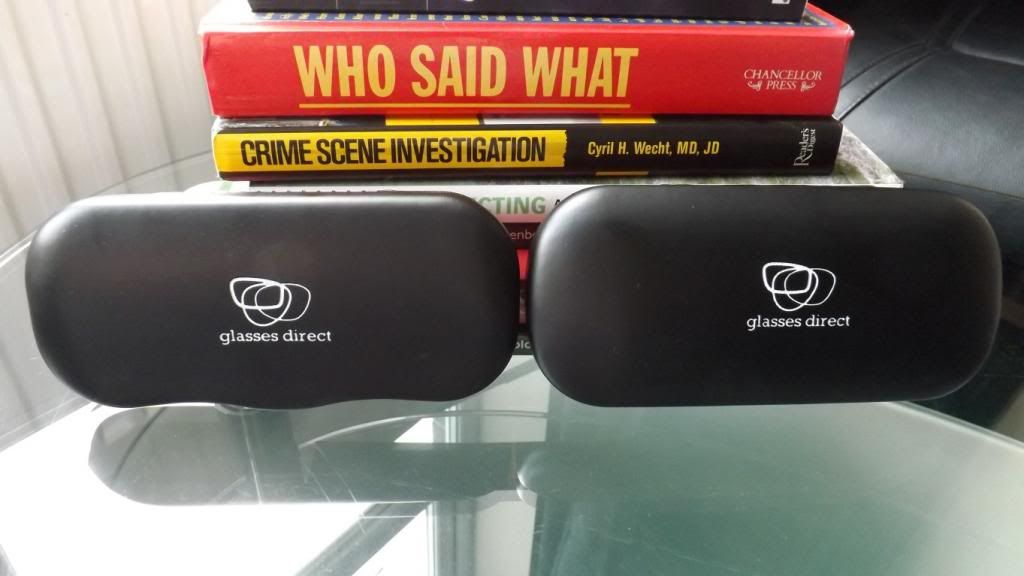 This is what arrived on the 3rd of October. Now I make no secret of it that I live in the Isle of Man which is usually covered by "Highlands and Islands" for postage so I was a little pleased to say the least! First up - the quality of the cases is superb. Not quite sure you could run your car over them but I have sat my sizeable bum on them a couple of times and they more than take the pressure..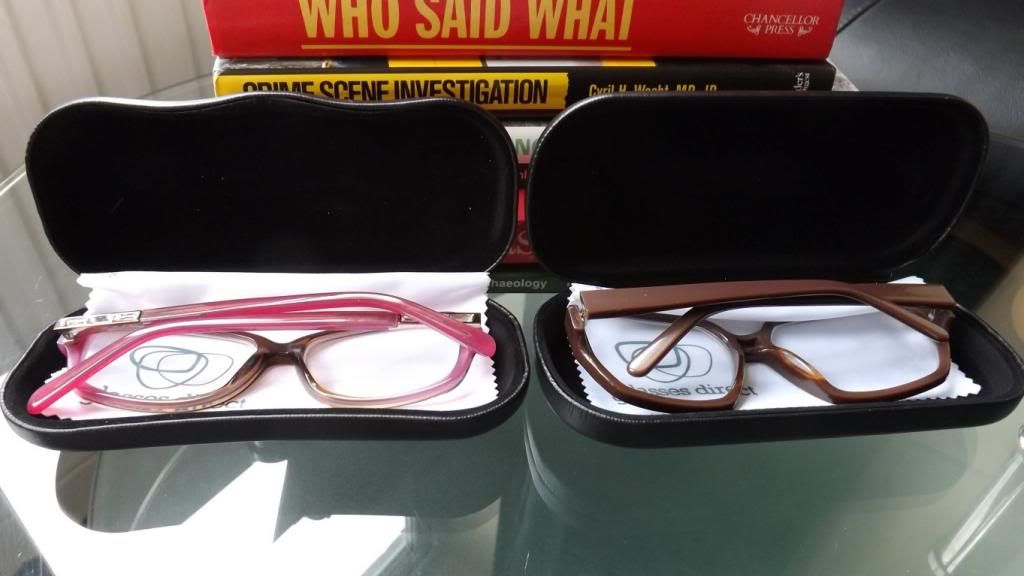 First up on the left we have "Vanessa" (here on the website) and on the right, "Audrey" (found here on their website). I know to most these probably aren't looking the most attractive glasses out there but I need something with a very large lens, and I actually adore the styles of these. "Vanessa" had wanted to be my initial purchase but was out of my price range at the time so I went with "Audrey" but in pink.
"Vanessa" is a gorgeous brown and pink ombre effect, but is also available in both purple and blue colourways. They have a great lens size and are now for "best" when I go out. I love the almost 50's retro styling to them and they are incredibly comfortable to wear.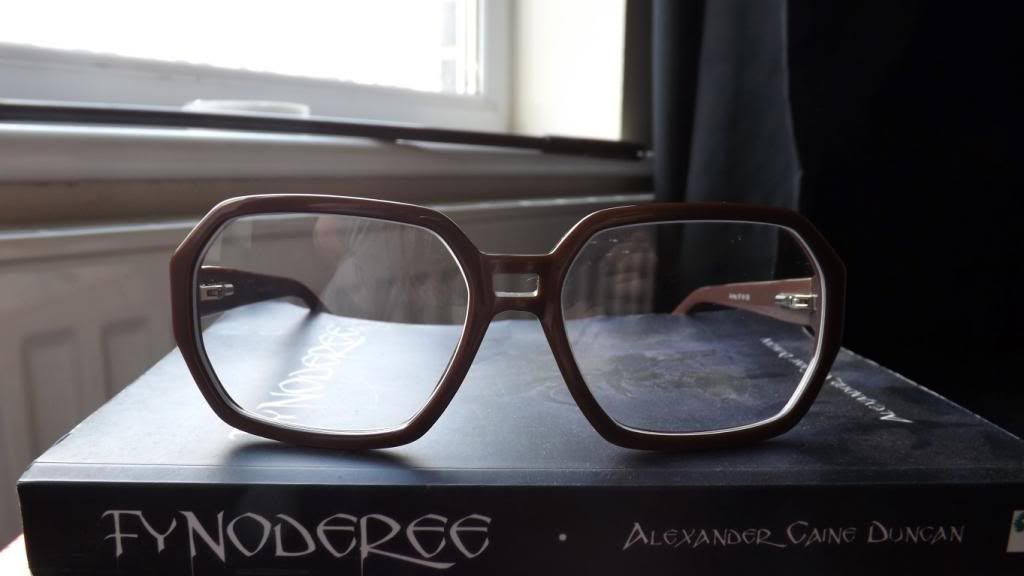 "Audrey" (named after Ms Hepburn herself) is a really oversized lens - which helps when you have cataracts. I am guessing they are a Marmite pair of glasses - people will either love them or hate them. I adore them and even though I have quite a small face, I have been assured by those that would tell me bluntly if they didn't look great on that they do. Again, the retro styling is what brought them to my attention (as well as already having a pair and loving them!).
All in all my buying experience with them has on both recent occasions been fantastic and their customer service phenomenal. From double checking the prescription of one rather upset person earlier on in the month to that said person now being the proud owner of 3 pairs of glasses for under £70 I couldn't be happier.
At the prices that they have, I can now literally change my glasses through the seasons and to go with what I fancy wearing each day. That is before I decide which goes best with the makeup I want to wear on the day too!
The website is incredibly comprehensive, showing you how to measure your glasses, how to make sure you get the right ones for the shape of your face - you name it. During office hours there is always someone to speak to you if you want some information or support.

You can even trial out frames at home to see what you think of them and buy your own prescription in sunglasses too.

I most certainly will be buying them online again, as the savings speak for themselves.
Find Glasses Direct on their Website
*I have not been asked or paid to make this blog entry by Glasses Direct, nor am I affiliated to them. I think this is obvious considering I have 9 followers. I am just a grateful customer and would love for somebody else to get the pleasure I have had from their product.