So, here it is - September 2013's Glossybox blog entry. I was going to do this earlier, but rather than just open it and give my initial opinion, I wanted to open it and give my opinion once I had had a chance to use the products.

There have been so many pictures of the Glossbox floating round the web, I decided to just jump straight in with the contents.

This month's theme was "The London Edition" to coincide with LFW. A gorgeous box with the Union Flag (a.k.a. the Union Jack) on the front of it and in a very patriotic red, white and blue. So, down below is the overall view of the contents.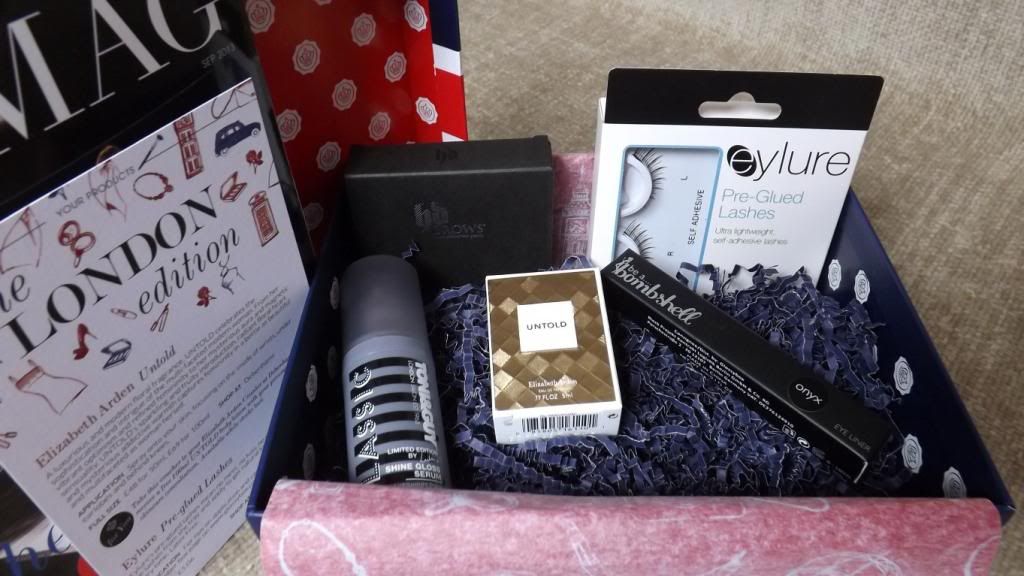 What struck me immediately this month (other than the honking great flag on the box lid!) was that we now get a magazine! I don't know if this is going to be a permanent thing or not, but is most certainly is a welcome addition. There are A/W trends covered, interviews with dress designer Mara Hoffman and Nilam Patel, the Co-Director of HD Brows. I did enjoy the "Top 5 Glossybox Office Obsessions" too as it is lovely to see what others enjoy.
Now, on to the contents of this month's box and what I genuinely thought of them.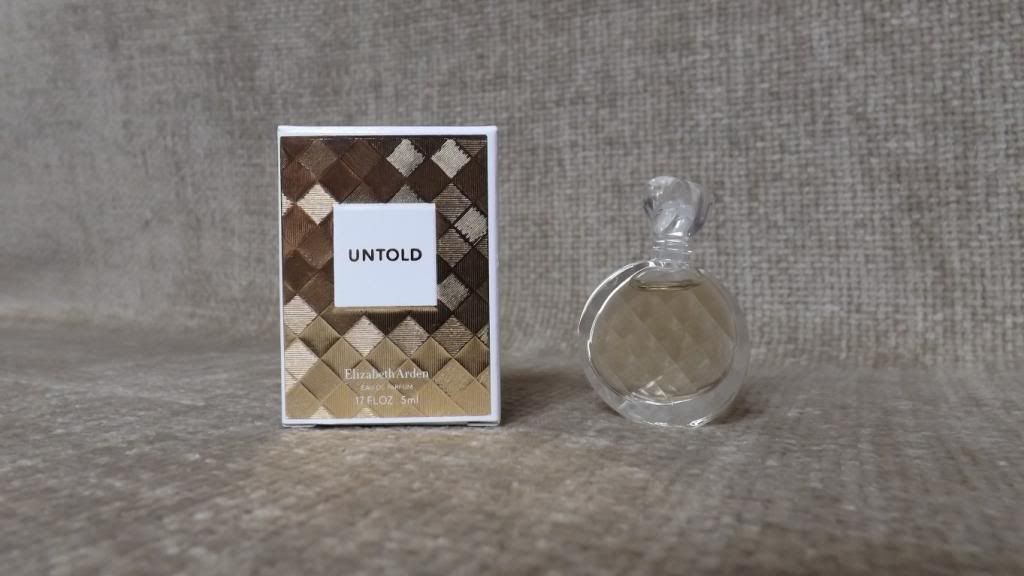 First up - a 5ml sample of Elizabeth Arden's Untold. I was a little wary of this as being a bit of a box filler more than anything. Yes, the bottle was cute but I remember my Grandmother wearing Elizabeth Arden! I opened it and have to be honest, was genuinely quite surprised. Although not a completely modern scent, it came across as quite classy, more of an evening perfume.

I have worn it a couple of times now and have been complimented each time I have which has been a pleasant surprise. Equally surprising is how far 5 ml will go!

I won't be buying this as it is £40 for 50 ml or £69 for 100 ml, but this sample will most definitely be used to the last. It has quite a floral scent with a slight woody undertone to it. If it had been a little cheaper, I think I would most certainly have bought it for sure.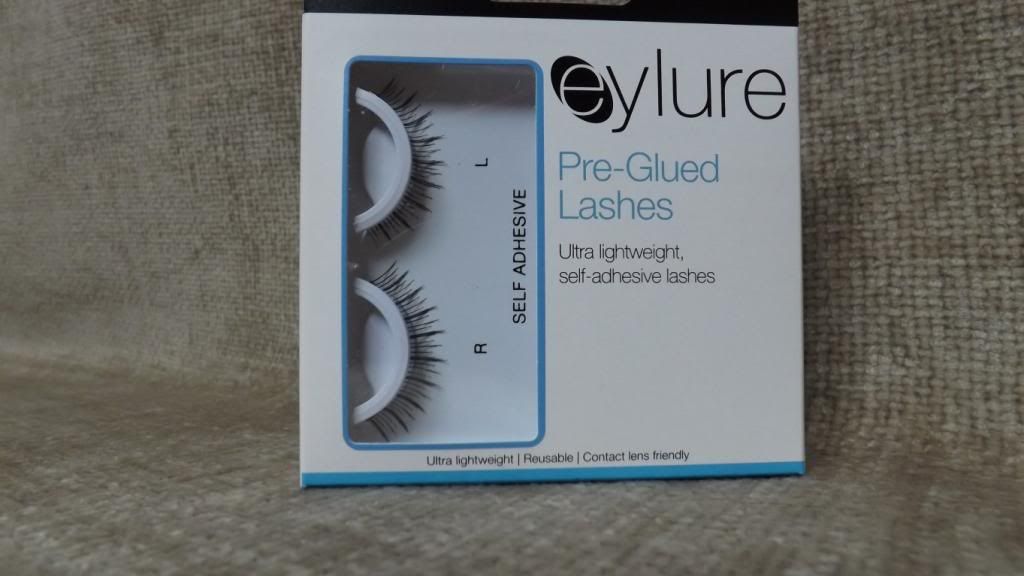 Next up - some Eyelure Pre-glued false eyelashes. I am going to make a confession. I have only ever worn false eyelashes once in my life and I hated every minute of it. I really really didn't enjoy it at all. I have the utmost admiration for anyone that wears them all the time as I just find them so uncomfortable.

I got them in 190 which actually seem quite a natural looking false lash.
So, I manned up and gave them a go. I did it without any makeup on my eyes as I just wanted to see how they went. I was genuinely surprised as I found the application quite easy (although I had to cut a few off the inner corner off each as they were a little long for my lids). The best bit? I really loved wearing them! I don't feel disappointed that I didn't keep them for a special occasion as it isn't something I would normally wear (eyelash curlers and mascara are my best friends), but I have bought a couple of pairs for both my wedding anniversary next month and for Christmas, safe in the knowledge that I can actually use them!
So, Toni and Guy what have you got for me? We have a full size (30 ml) bottle of "Hair Meets Wardrobe" Classic Shine and Gloss Serum (limited edition by Lulu).
I have an almost slavish devotion to my L'Oreal Elvive Extraordinary Oil for my really frizzy locks and hey, if it isn't broken, don't fix it. That was until I found myself in hospital last Wednesday for 3 nights respite with my September Glossybox and no Extraordinary Oil. The heat in there was ridiculously drying so I broke the shine gloss serum out to see if I could make my hair look like less of a stack of straw.

First up, the serum is a little more highly scented than I am used to and a lot thicker in consistency too. None the less, I persevered on and popped it in my hair. I have very long hair so 2 pumps rubbed between my hands and I ran it through from the midway sections to the tips.

I was very surprised at the outcome. It was, to put it bluntly, exceptionally good. I have very fine hair and most serums weigh my hair down but this didn't. It really did come good on its claims - my frizz was gone and that was in a very dry environment too.

Will I be buying this once my bottle has run out? I have to be honest, no I won't. What puts me off is the price. It is £7.19 for 30 ml. That is the only negative I could find with this.
On to "Be a Bombshell Cosmetics" with their Onyx eyliner. I haven't opened it as I have tons on the go at the moment but my daughter also gets Glossybox and she got one too. It is a felt tip style point which (I am reliably informed) gives a medium and thick line with great precision. A thin line it certainly doesn't give, but not everyone wants that. I am not going to open this one just yet either as I really want to give it a go properly, but without ending up with a ton of partially used eyeliners that I have to chuck away.
As I mentioned, my daughter thinks it is great for a different look (we both love the Maybelline Eye Studio Lasting Drama Gel Eyliner) but she says that she can get a lot of different looks with it.

Unless it really blows me away, I doubt I will be buying it when it runs out as I have never had much luck with felt tip style liners. None the less, I am more than grateful for the chance to try something I would never have picked up normally (which is why I signed up for Glossbox, the chance to try things I wouldn't normally)
Again, this is a full size item which retails at $14, so more than grateful for the chance to try it.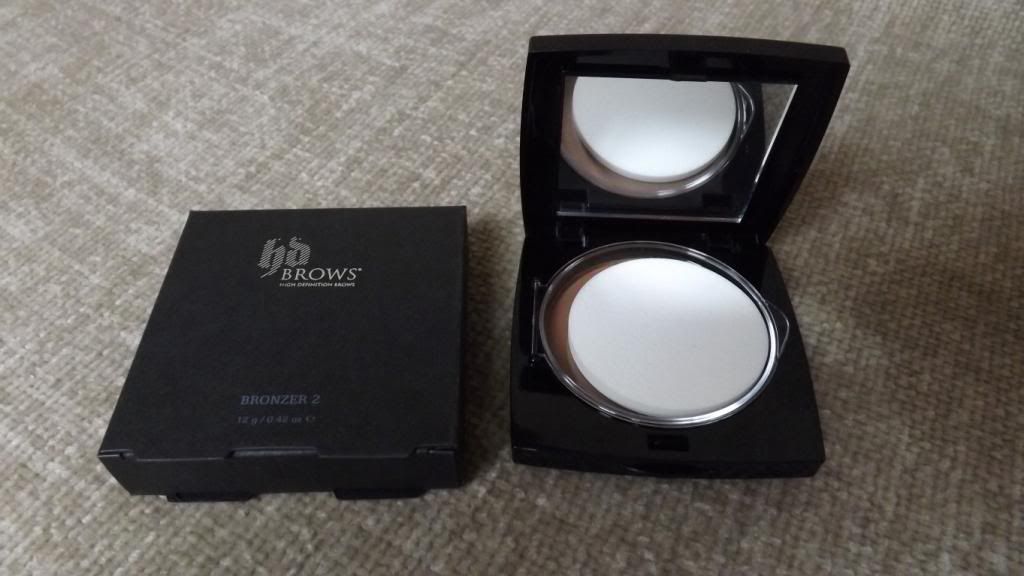 Now, on to the last product which, quite honestly, blew me away. HD Brows Bronzer. Firstly, I felt as though I had been spoiled rotten with my Glossybox so far. Secondly, I had no idea that HD Brows did any kind of cosmetics.
My heart kind of sank when I opened it though...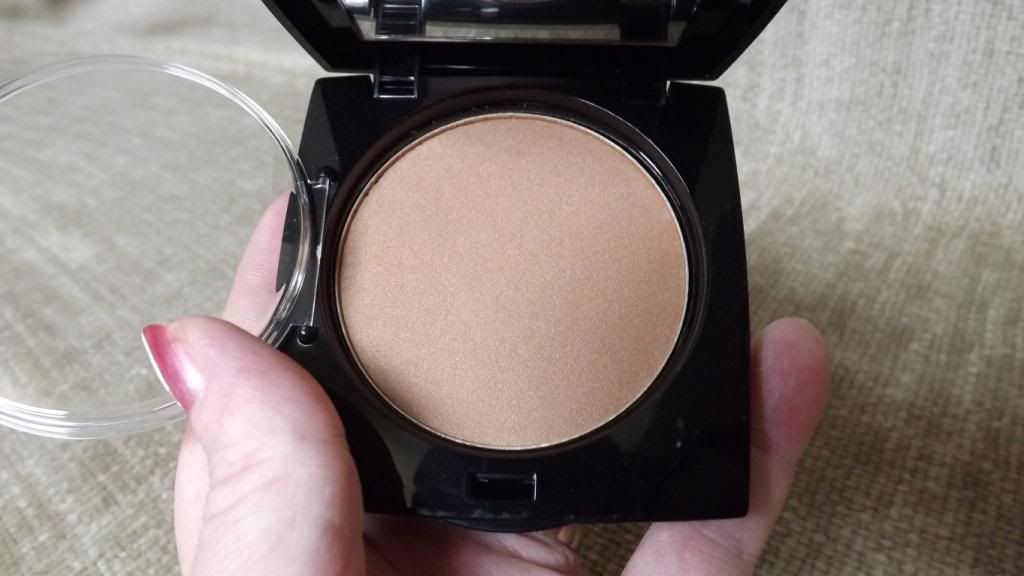 It doesn't pick up too well on my bridge camera, but it was sparkly. Fortunately, I found out very quickly that it was just a quick spray over the top. Underneath was actually a gorgeous matte bronzer which will be ideal for winter.

The packaging is quite ingenious too, as I absolutely detest having an applicator sponge lying directly on the product. The mirror is more than adequate and the actual compact certainly doesn't feel cheap in the hand.
Which when I swatched it does look glittery but that was me taking the top layer off. Now I have had a chance to use it properly I am beyond impressed with it. I have very pale skin so although it has quite an orange undertone to it, I am able to use to contour for a lovely daytime look. If I was wanting a contour for night time, I would go for something with a more grey undertone to it, but this is a beautiful everyday bronzer for going into Autumn.

On their website (www.hdbrows.com) they have some great tutorials as they have also released a blush too (which my daughter got in her Glossybox and hasn't been off her cheeks since).
The pigmentation is incredible, the staying power a good 6 hours (and that is from someone who is always brushing their hair away from their face.)

The bottom line of would I buy this again? Absolutely. Although I am a huge fan of Sleek's bronzers and face contour kits, I really do like this for when I want to switch my look up a little. At £19.95 it isn't the cheapest, but you gets what you pay for!
All in all, I think September's Glossybox absolutely outdid itself this month. I loved everything even though I wouldn't repurchase some of the things (and that is mainly due to price).

I have thoroughly enjoyed using everything apart from the eyeliner (which is remaining unopened so that I can get some proper use out of it).
One of my favourite boxes every. Thank you!