Oh Sleek MakeUP - you have done it again. Seduced me hook line and sinker with another great blusher and palette. This time it is the Vintage Romance Palette and the Antique Rose blusher which I have had a couple of weeks and really can't think of there being a better high street/drugstore combination better for this year's A/W colours.
I am quite embarrassed to say, I actually keep all my Sleek MakeUP palletes in their boxes. Find it much easier to find which one I want and has absolutely nothing to do with the gorgeous packaging!
Managed to get a day with half decent light so I have swatched these in natural light without a primer. My neighbours were watching me thinking I had probably taken leave of my senses but I don't care as the products are just too great to pass up a blog entry about. Sometimes I buy things that are great and just leave it at that. This isn't one of those times - I want everyone to know how great they are and if they haven't got them yet, maybe help in swinging their decision to do so.
First up - what arrived from SleekMakeUP. Just a quick aside. Has anyone else who has bought from Sleek MakeUP found their packaging to be fantastic? I live in the Isle of Man so anything I get has an extra boat or plane journey to get to me and everything is always in A1 condition.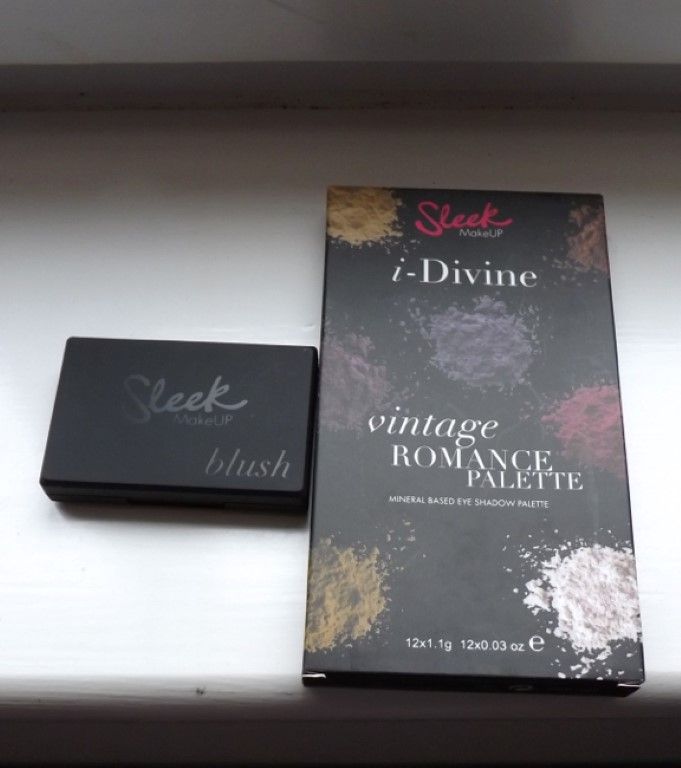 One i-Divine palette in Vintage Romance and one blusher in Antique Rose. I am not into dupes for high end products, I love Sleek MakeUP for what it is. Quality, affordable and (I find especially in the blushes), exceptionally individual. This is Antique Rose - a dark dusky pink that, to be quite honest, scared the bejeezus out of me when I saw it in the pan. I thought it was going to be way to dark for my very fair, freckled complexion.
It is a beautiful mauve colour with (and you will have to bear with me here as I have cataracts and my colour reception isn't the greatest, so with help from my daughter) a very subtle grey undertone to it. Definitely not a blue, but something that side of the colour wheel. I have pink undertones (as does my daughter) so we are very lucky that we can both use the same colours.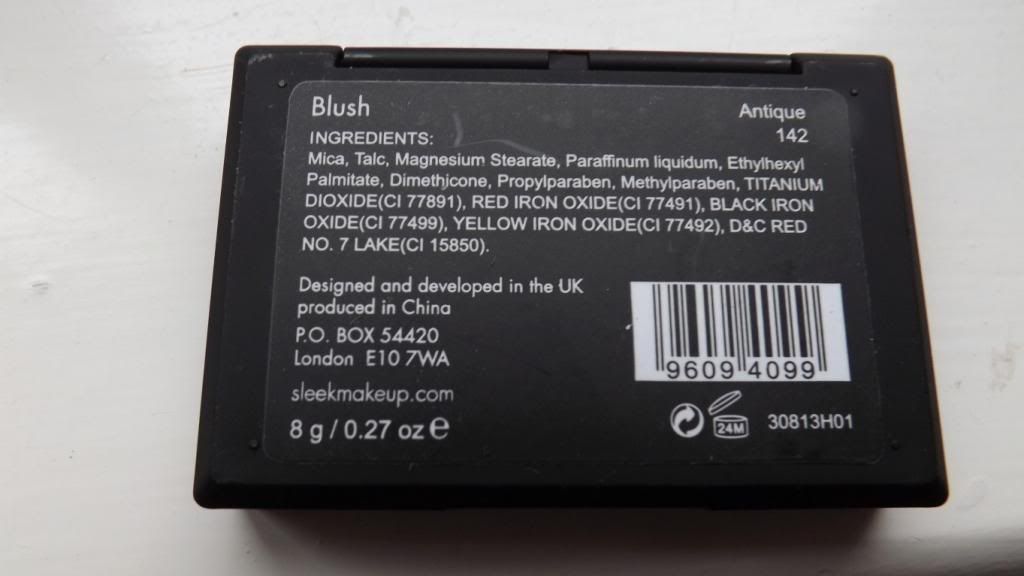 Here is the information on the back for those that are interested in the contents and the colour code (142). I have had radiotherapy so I do sterilise my makeup frequently with a light spray of surgical spirit and it doesn't change the consistency at all. Just keeps things nice and clean for me. As it has a high alcohol content it also evaporates within seconds and leaves the powder products exactly that - powder.
One very light sweep and you can see how fantastic it looks out of the pan. A rich, highly pigmented blush that is going to look great for this A/W. No, it isn't going to suit everyone, but I have pale skin, auburn hair and freckles and this is perfect for me. It blends out like a dream. I didn't buy it at the same time, but I did a "one brand face" and this looked fantastic with the palette below, Sleek MakeUP's cream to powder foundation in Linen and their Matte Me lip gloss in Birthday Suit. It really was a great combination for me.
So, with the blusher aside, on to the i-Divine Vintage Romance Palette
Yep - I know the colours are incredibly hard to read due to me only having a bridge camera and very limited photography skills so I have swatched them all below and will go through the names at the same time as the descriptions.
All the swatches were done without a primer and were literally a "splodge and swipe" with one pass of my finger in the pan. Yet again Sleek MakeUP comes through with the pigmentation.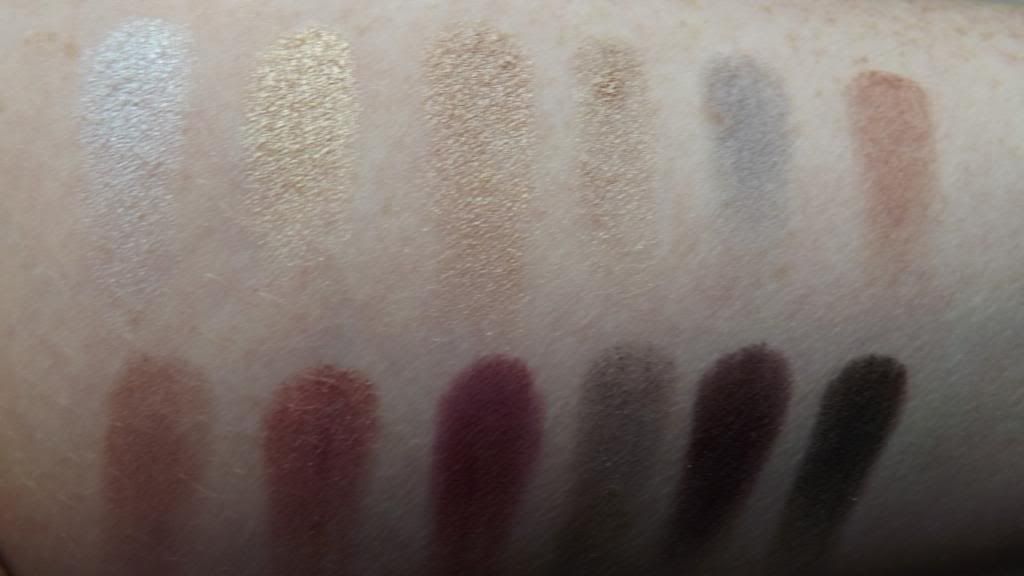 Rightey ho - the entire palette in one go. Obviously this wasn't going to give the optimum view of the colours so I have done the top row and the bottom separately. Darn my arm for not being double jointed ;)
Top row of the Vintage Romance Palette consists of the following colors, going from left to right:-
Pretty in Paris - silver shimmer
Meet in Madrid - gold shimmer
Court in Cannes - bronze shimmer
Lust in LA - taupe shimmer
Romance in Rome - slate grey matte
Propose in Prague - terracotta matte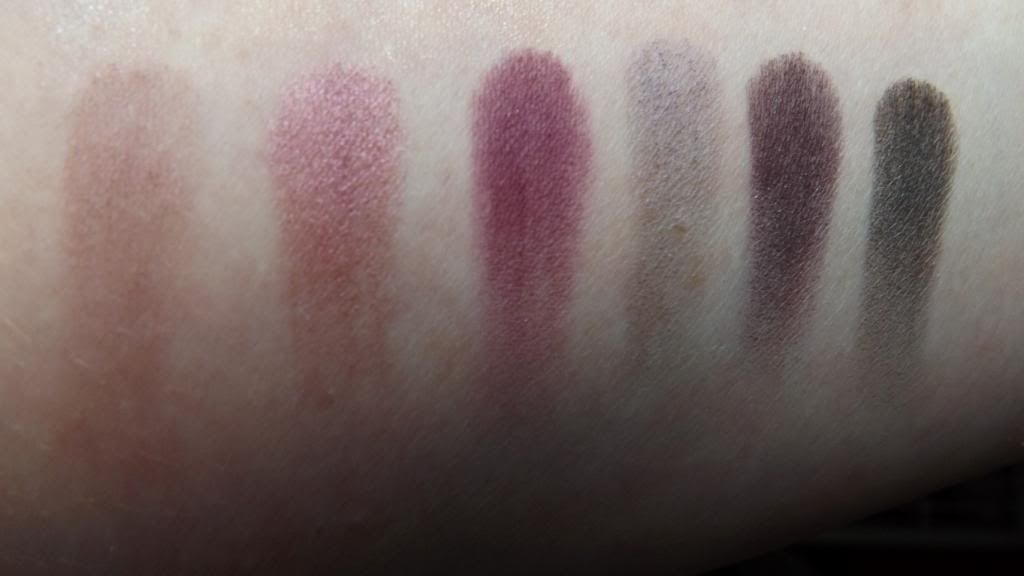 And the lower row of the palette, from left to right again :-
A Vow in Venice - dusky pink matte
Marry in Monte Carlo - rose shimmer
Honeymoon in Hollywood - cranberry glitter*
Bliss in Barcelona - grey with purple undertones shimmer
Forever in Florence - aubergine glitter*
Love in London - black glitter*
*although the glitter shades look incredibly glittery in the palette, they are far more subtle on the eye.

All in all, the pigmentation is very consistent. The shimmer shades are incredibly smooth and buttery in consistency, the matte shades make incredible transition shades, or just great shades for daytime on their own and the glitter shades were a fantastic surprise. I was very pleasantly surprised when I swatched them and couldn't have wanted for more.

I have been using this palette for a week now and couldn't be happier. It takes you from day to night so easily and the staying power is exactly what you would expect from Sleek MakeUP. The only shade which isn't as pigmented as the others is Bliss in Barcelona. Some might see that as a negative, but I love it as it makes for a great transition shade. It also does come up very true to what you would expect if you use a primer (the swatches I did were without, and just on my arm).

All in all I am absolutely thrilled with it. To quote one of my favourite bloggers and YouTubers, Amy (her blog is here and her YouTube Channel is here) it is Autumn in a palette for sure.

Am I pleased with it? You betcha. Sleek MakeUP is hands down my favourite high street/drugstore brand out there.

The Romance Collection that I have reviewed is available at Superdrug and from their website via this link. They have definitely come up trumps with this one. Thank you!
*I have 8 followers. I bought these products myself and opinions expressed are entirely my own. I was not sent these products for free by review by Sleek MakeUP and am not affiliated to them. I just like them. A lot.