This month, the box formerly known as the Beauteco Box has been re branded as LoveMeBeauty. The format of how you order hasn't been changed at all. For anyone not familiar with it, they have a "boutique" from which you choose one of 3 boxes. There are no surprises with this one, you know exactly what you are getting up front and can pass on a month's subscription if there is nothing to take your fancy. This month, I went for menu 3.
The website is down for maintenance at the moment so I will come back and edit once it is up with the link, but they can be found at @LoveMeBeauty on Twitter. This is my third month consecutively getting LoveMeBeauty/Beauteco box and I haven't wanted to pass up once yet. I love the element of surprise you get with the other boxes, but I love the fact that you can pick what you would like from a menu on this one. So, on to the actual box...
(the website is now live again and can be found here)
This one doesn't come with a fancy box inside it - just the outer box with lots of shredded paper packaging to keep the products safe. I haven't had a problem with anything breaking at all so far but have noticed that there only ever seems to be one glass item a month. Saying that, this month's glass item, the little bottle in the middle has actually got me the most excited.
It is a 7.5 sample of Matriskin Collagen Serum. It might sound really small but I have wanted to try this for the longest time. The full size bottle (30 ml) retails at (are you ready for it?) ....€95. That is £79.57 or $126.33 (on today's exchange rates) Yep, you read that one correctly. So for my £12.95 outlay for this month's box I have already got just under £20 worth of product. It isn't actually stated on the menu blurb how much this is, but I have been admiring it from afar for quite some time now. The info on it can be found here.
I am actually kicking myself today as I got the box yesterday and tried it out last night as per the instructions (half a pipette around upper and lower eyelids and neck). I was a little sceptical as to how it would go that far but BOY it does.

I have really dark sunken circles under my eyes and very crepey lids so popped some on after cleansing last night. By this morning, the difference was so obvious my husband noticed. That would be the same husband that didn't notice I had a fringe/bangs cut in for our wedding last year! I am not going to use it again for a while as I really think this merits a complete blog post of it's own, and I now need to "deflate" my eyes to do a before and after.

I have also done a sneaky. As the boutique at LoveMeBeauty is still open I may have bought another box just for the Matriskin sample. It makes good financial sense!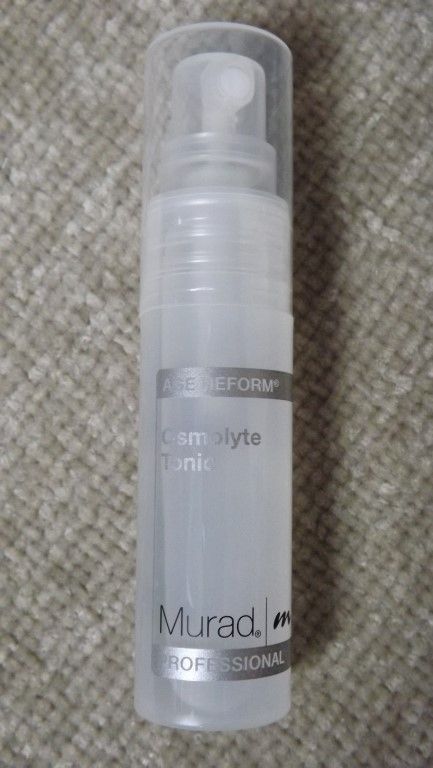 Next up is Murad's Osmolyte Tonic. To quote the menu, "This refreshing mist replenishes and moisturises to plump and firm skin. The Duel-phase moisturising system infuses skin with essential nutrients that increase cellular hydration, repair the skin's barrier and soothe skin. Suitable for all skin types".

It is a lovely 15 ml full size product (I am not joking, the info is here and is £10 alone) but given the extreme reaction (of the best kind) I had to the Matriskin, I am keeping this to one side until I have horrible eyes again!

It has a gorgeous smell of very mild chamomile. This one will be going into my "things to try out" basket for sure.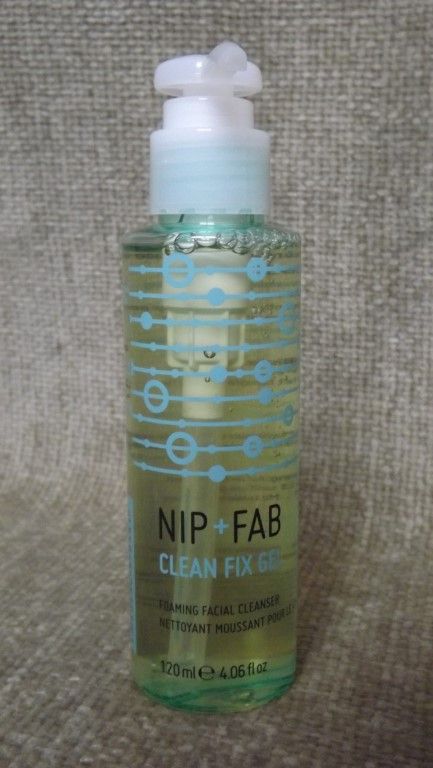 Next up I got Nip and Fab's Clean Fix Gel. I am guessing this will be a marmite product as it is a foaming facial cleanser but I have to be honest, I genuinely don't mind them once in a while. It is generous full size product and more information can be found on their website here. It is on offer at the moment for £4.95 so I am going to give this one a try very soon. It has quite a strong citrus note to the smell, but that is something I love as bergamot is my favourite scent ever. Yep, the face gel smells of Earl Grey tea! It is for oily/combination skin which is fantastic as... that is what I have!
Ahh, Anatomicals. Not a month goes by when you don't appear in one of the beauty boxes out there. This month it is a zit stick! It appears to have a day and night treatment but I am not going to open it just yet as I don't have any breakouts. That will definitely go in the "to try" basket as I do get hormonal ones and it would be great to see if it works. After either 1) being an idiot or 2) navigating the world's worst website ever I have deduced that it retails for £3.00. I tried linking it. I can't!
Last but not least, a 30 ml sample of Essential Care Gentle Herb Shampoo. The first thing that jumped out at me was that it claimed to be 70% organic. Sooo, it isn't then! I generally dislike organic shampoos as they generally just smell horrible. This, however, really does smell nice. It smells very strongly of aloe vera which might put some people off, but I actually like it very much. One thing I will say is that is incredibly thin in consistency for a shampoo. It also claims to not need a conditioner. My frizzy locks might disagree but I am going into hospital for respite next week for a few days so I shall pop that in my bag to give it a try. I will be taking conditioner though! Definitely on the fence on this one, and more information can be found on it here.
So there we have it, the inaugural LoveMeBeauty box and even though I chose the items, it did not disappoint in the least. I really am looking forwards to trying everything out, especially the Matriskin Collagen Serum. My "things to try" basket just got a whole lot more products in it this month for sure!

If anyone else has had this box (I got menu 3) I would love to hear how you got on with the products. I sometimes find that something doesn't work for me but find out later I have been using it wrong so yep, would love to hear anyone's thoughts.

Fi xoxox